Penwarne Farm Cafe ...
Dine With a Seaview
Penwarne Farm Cafe ...
Good, simple food – great views
Penwarne Farm Café is set amongst beautiful Cornish countryside with indoor seating and a spacious deck with panoramic sea views looking out to Pendennis Castle and across to Falmouth Bay.
The cafe is open throughout 2019 and is now home to Marc and Beau who bring an eclectic range of world food and warm friendly service to this beautiful corner of Cornwall...
For more information about their Thai Street Food nights, daytime menus and opening hours please click here for their website.
To book a table for Friday night or for any enquiries please text/call 0743 481 7726 or email Marc at [email protected]
Just outside of the cafe there is a children's adventure playground which the kids will absolutely love and can be seen from our outdoor seating area.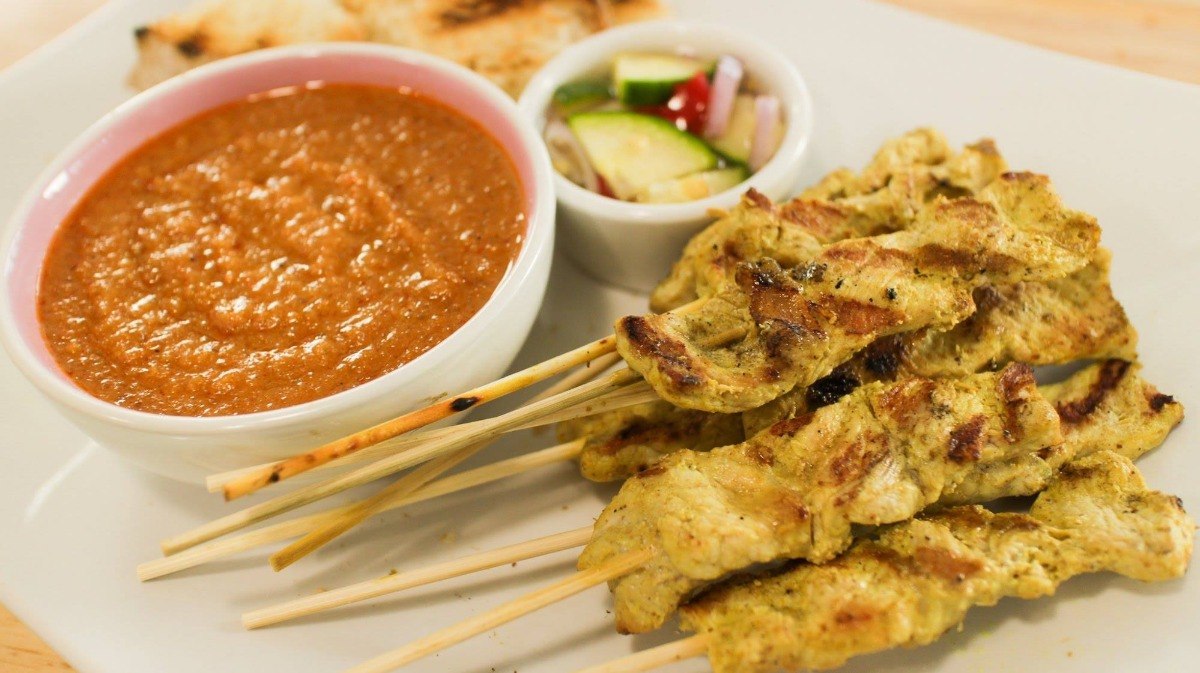 Gai Satay - marinated chicken breast skewers with peanut sauce
Just one of our popular Thai dishes.

To find out more ...
Please call 07434817726 for all booking enquiries or to discuss any special culinary needs.

OPENING TIMES
| | |
| --- | --- |
| Tuesdays | 8.30 am - 3pm |
| Wednesdays | 8.30 am - 3 pm |
| Thursdays | 8.30 am - 3 pm |
| Fridays | 8.30 am - 3 pm 5 pm - 8.30pm Thai Steet Food Nights |
| Saturdays | 8.30 am - 3 pm |
| Sundays | 8.30 am - 3pm |
| Mondays | Closed |
Open all bank holidays Mondays with Tuesdays off in lieu.
New Beginnings ...
Penwarne Farm is delighted to welcome Marc & Beau Routley who are very much looking forward to introducing a vibrant new menu, which will include some of our traditional meals and snacks as well as a strong Mediterranean influence with an emphasis on fresh, local ingredients prepared simply and served with flair!
Beau's heritage is Thai and with Marc's help she will bring some modern Thai delicacies to the café for lunch and selected evenings.
Having recently qualified as a nutritionist, Marc specialises in gut macrobiota dysfunction and is looking forward to sharing his knowledge with those interested. This will also be reflected in a good choice of healthy yet, tasty options on the menu at Penwarne Farm Café including vegetarian, vegan and coeliac offerings.
In addition this year will see the introduction of takeaway picnics for campers alongside the campsite's fresh produce cart.
So come on down and join us for delicious food prepared with love!
The café can also cater for children's birthday parties and group bookings.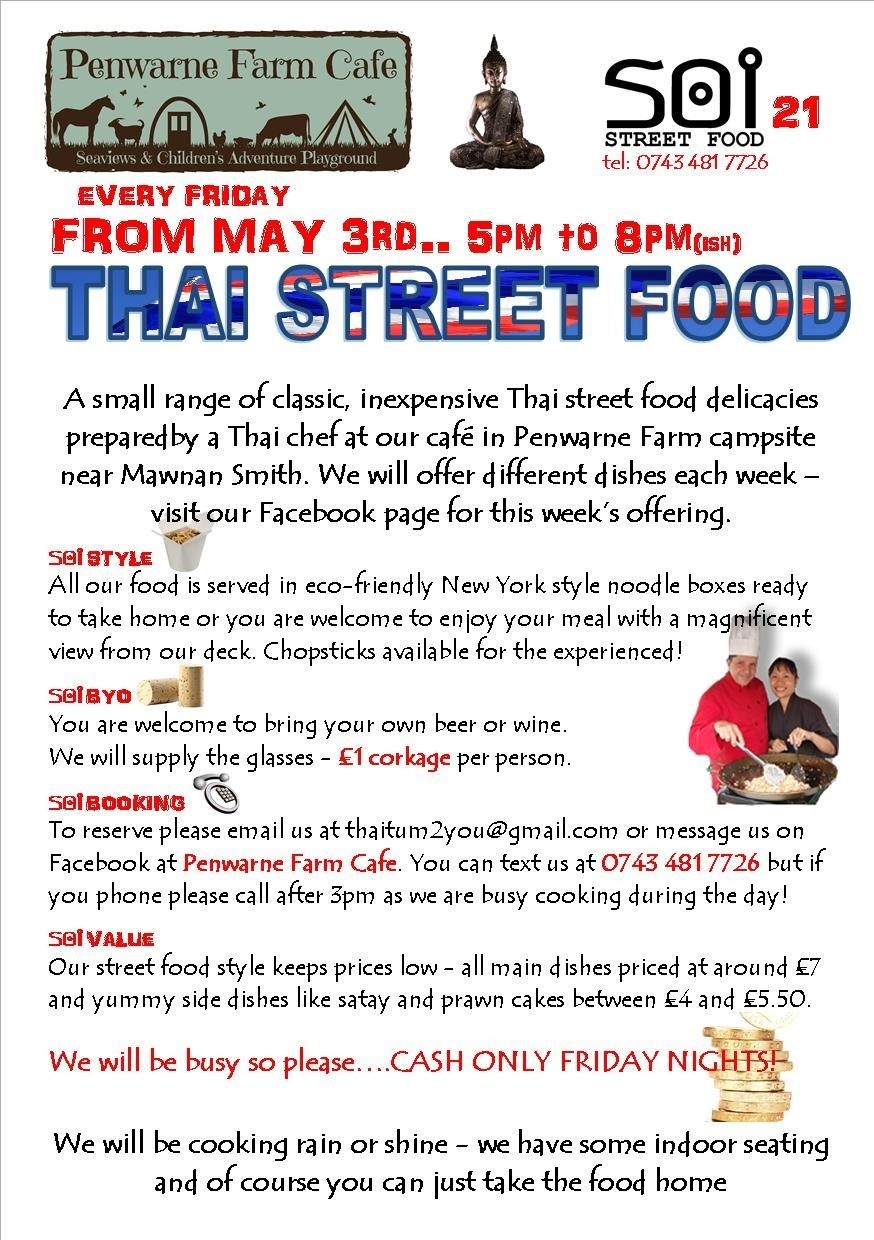 five star rating
The cafe is open all day to serve up hearty breakfasts, healthy lunches, as well as a range of beverages and scrumptious snacks throughout the day.
All of the items on the menu are made fresh to order, and using only ingredients sourced from local suppliers. We are proud to have a 5 Star hygiene rating from the Food Standards Agency for the peace of mind of our guests.
We also offer a range of alternative options for those on restricted diets, such as vegetarians and gluten-free options. If you have any allergies or intolerances, please let the staff know as soon as possible so we can cater for your specific requirements accordingly.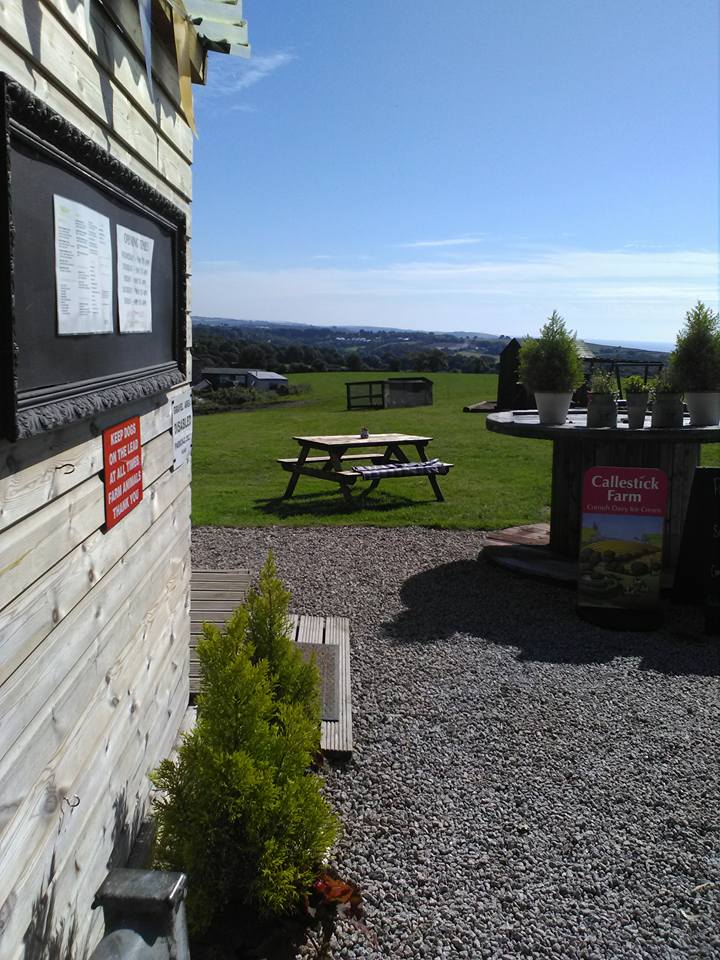 The cafe is under new management in 2019, for up to date posts on weekly menus, daily specials & up and coming events - please visit the cafe's Facebook page: Penwarne Farm Cafe